History
Page 2 of 3
1932 - J. E. "Ed" Love and Horace Hume developed the floating cutterbar as an attachment for grain combines being used in the "Palouse Country." This made it possible to harvest the local dry pea and lentil crop directly (a single operation with the combine). Prior to this development peas were mown, windrowed and then hand pitched into the combine for threshing.
The Hume-Love Company was organized to manufacture the flexible floating cutterbar.
1934 - The Hume-Love Company developed and marketed the first tined pick-up real for grain combines. This invention reduced crop losses and increased the cutting efficiency of either the floating cutterbar or the standard rigid cutterbar.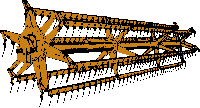 1935 - Green pea processors and growers of the Walla Walla area became interested in applying the floating cutterbar and tined pick-up reel in their harvest. The new equipment was adapted to a pull type grain windrower. The modified unit successfully windrowed green peas combining the cutting and windrowing operations for the first time.
1938 - A new windrower header was designed which could be mounted directly on a wheel tractor forming an integral unit capable of cutting, windrowing peas and powering itself. The new unit received the trademark "Tracto-R-ower."
1939 - The Green Crop Loader was introduced which loaded windrow pea vines onto trucks at rates as high as one ton per minute. This eliminated hand pitching of vines onto trucks.
1940 - A second manufacturing facility was established at Mendota, Illinois.
1945 - The Hume-Love Company divides and becomes the J. E. Love Company of Garfield, Washington and the H. D. Hume Company of Mendota, Illinois.
1957 - The floating cutterbar is used for the first time in soybeans in order to reduce harvest losses. This effort is conducted in the Red River Valley of Minnesota.