A Closer Look.


Level ride suspension and side view


Agicultural Products::Spray Boom
Complete Your Spraying Application System.
Add the Spray Boom attachment to the Calkins Flexi-Tank Hitch or the Low Rider Tank Cart to complete a total application system. Compare the cost per acre and check long-term savings in the price of pesticides, herbicides, fertilizers and other liquids in contrast to waiting for vendor equipment and paying, indirectly, for an application method. The 83' 3" boom width folds easily to within the width of the tank unit for transport.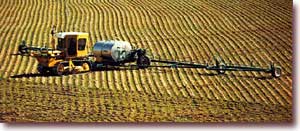 The level-ride wheel suspensions, with shock absorption,allows constant control of boom height and lets the wheels take up variations in ground obstacles, ridging or furrows.

With the 5-section boom, you can follow the varying ground contours.


---
PRODUCT SPECIFICATIONS

Spray Boom Attachment for:
Flexi-Tank
Hitch or Low-Rider Tank Cart


3"x5" main frame


1" aluminum manifold


83' 3" spray boom width


20" nozzle spacing


6-bolt wheel hubs


7.60 x 15, 4-ply ribbed implement tires


Rear-fold wings for transport