A Closer Look.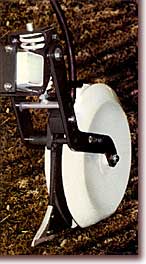 Patented opener assembly with adjustable boot depth and downpressure.



Accurate furrowing with trash removed from 15" seed rows. Below: earlier sprouting promotes healthy plants.


Agicultural Products::Accra-PackTM Seed Drill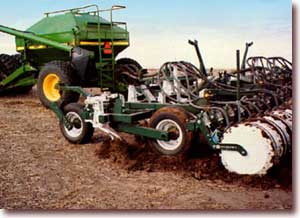 Accurate Seeding. Earlier Sprouting.
Seed life begins with moisture. The faster a seed germinates, the more quickly its shoot emerges from the soil. But most air drills perform poorly in deep dusty soil, and other split packers can't clear disease-causing trash ahead of the seed zone.

Coombs' new Accra-Pack frame-mounted air drill combines the well-known benefits of split-packer drills together with efficient and easy-to-transport air seeding technology. Run the Accra-Pack drill in dry fallow, springtime, or moist situations and enjoy the benefits of excellent seed-to-soil contact and accurate furrowing -- especially in dry fall conditions. Accra-Pack is fully compatible with any brand of air seed cart.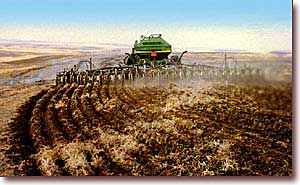 Openers mounted individually on toolbar -- Allows row spacing from 10" to 18"


Independent rock trip -- Prevents rock damage to opener or rest of drill


Adjustable packer wheel downpressure -- Set from 90 lbs. to 185 lbs. to allow accurate furrowing and seed placement in various conditions


Packer wheels independently mounted on sealed bearings -- Improves life and durability; trapped rocks "walk out"


Adjustable toolbar and backbone -- Independent depth settings for openers and optional shanks or pre-furrowers


Adjustable boot depth -- Allows seed placement from 1/2" to 4" below packer wheel rims


Rolling tongue hitch standard -- Maintains even depth control for entire implement

---
PRODUCT SPECIFICATIONS
3-Section and 5-Section Modes

CENTER FRAME: 12' (3 and 5-section)


WING FRAMES:
12' (3-section)
10' 6" inner wings (5-section)
8' outer wings (5-section)



WORKING WIDTH: 36' (3-section), 49' (5-section)


OPENER SPACING: 10" to 18" adjustable


WEIGHT:
Frame with rolling tongue (approx.) 7,100 lbs. (3-section)
11,800 lbs. (5-section)
Plus openers @ 166 lbs. each



LENGTH: 21'2" pull point to rear of opener


TRANSPORT WIDTH: 15' 9" (3-section), 17' 10" (5-section)


TRANSPORT HEIGHT: 15' 4" (3-section), 14' 2" (5-section)


OPTIONAL EQUIPMENT:
Rotating shank assemblies
Spring-tine straw straighteners