Adjustable tank mount. Tank mounted in forward position towards tractor.



Heavy-duty implement hitch.

Agicultural Products::Low-Rider Tank Cart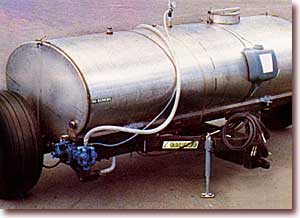 Adjustability with Options.
Calkins Low-Rider Tank Cart features adjustable tank positioning for moving the weight towards the drawbar or back over the axle to set a precise weight balance and match the tractor, implement, and ground conditions.

The well separated, wide-stance, lowers the tank height so the operator can see over the 59-inch cart to watch all sections of the implement.

The lower profile keeps the weight close to the ground for improved hillside control. The movable hitch point can be set to moderate side-draft on steep ground and establish a constant angle.

Compared with standard fertilizing equipment, the wide stance of the Low-Rider Tank Cart means that neither the tractor nor the implement follows the same tracks, so ground compaction is not a problem.


Cultivate and supplement in one pass with a Chisel Plow. Below: dual-piston "John Blue" pump.

With its large tires, the Calkins Low-Rider Tank Cart minimizes overall effects on soil conditions by distributing the heavy material weight.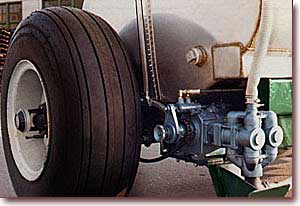 Compare the cost per acre and check long-term savings in the price of pesticides, herbicides, fertilizers and other liquids in contrast to waiting for vendor equipment and paying, indirectly, for an application method.

---
PRODUCT SPECIFICATIONS
4"x8", 1/4" square tube main frame
6"x6", 1/4" square tube stiff tongue
6"x6", 3/8" square tube slide tongue
3-1/2" axle, 10-bolt hubs
50 x 20.0-20 tires
1,000-gallon liquid tank with baffle (Standard)
1,500-gallon liquid tank with baffle (Optional)
Width: 16' 4" transport width
Height: 59" for Standard tank
Fully adjustable hitch
Distance Meter
Pump Mount
"John Blue" dual-piston liquid fertilizer pump
Dual tank outlets, quick clean-out openings
4 hydraulic hoses with quick-couplers
Cart plumbed to implement hitch point
Safety Kit