Agicultural Products::Flexi-Hitch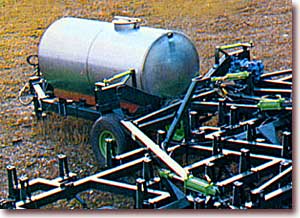 Why you need a new Calkins Flexi-Tank Hitch.

Weight distribution: 60% on hitch, 40% on tractor
A. Better tractor traction.
B. Less compaction from hitch tires.


Built in flexibility of hitch allows machine to follow contour of all ground conditions.


Visibility of working implement.


Draft control on hillsides due to lower center of gravity on tank.


With or without a tank, the Flexi-Tank Hitch is still a desirable additions to any tillage tool from the standpoint of draft and depth control.


Flexi-Tank Hitch can accommodate more than one tank at a time for separate chemical distribution.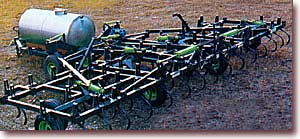 Flexi-Tank Hitch can use any style tank available from our local fertilizer distributor.

Save time and dollars by eliminating unneeded trips across your fields. Equip your standard cultivator, culta-weeder or chisel plow with a new Flexi-Tank Hitch.

STANDARD EQUIPMENT
4"x8" tubing frame • short V-tongue members 4"x8" tubing • 3"x8" hydraulic cylinder with hose • hose mast • wheels 360-degree castoring with 2-1/2" H.T. shafts • 8-bolt hubs • 12.5Lx15 10-ply tIres 10,000-lbs. weight capacity 2440-500


OPTIONAL EQUIPMENT
Parallel tongue members 4"x8" tubing • 13.50x16.1 10-ply tires 13,500-lbs. weight capacity • hitch-mounting members for 1400, 1500 or 1600 machines • chemical drive kit • choice of chemical pumps • 900-gallon stainless steel tank • 750-gallon stainless steel tank • 750-gallon anhydrous tank • 500-gallon anhydrous tank • manifold and hose kit • 2" pot strainer and valves • tube only for standard point or sweep • 9" sweep with point • special fertilizer shank assembly