A Closer Look.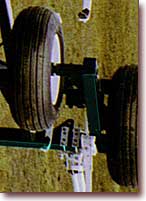 All wheel legs are equipped with tandem walking beams and field-replaceable spindles. Extra heavy dual-mount supports pivot on tapered roller bearings.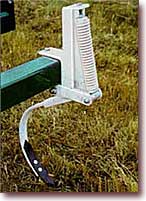 Spring steel shank is 9/16"x 1-3/4" with 24" frame-to-point clearance.
Agicultural Products::Cultivator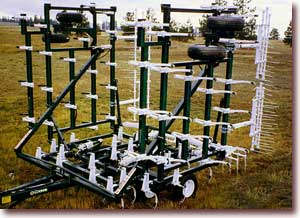 Clearance. Consistency. Flexibility.
Terrain is seldom uniform. That's why the new 5-bar Calkins Field Cultivator is designed to give you superior trash clearance, the ability to traverse rolling terrain and consistent depth control to handle uneven ground contours. Save time and fuel with features like:

5-bar frame trash clearance - Shanks spaced out farther than the 4-bar version for better trash clearance.

Field-replaceable spindles

28" clearance between shanks on any one bar.

Shortened close-coupled tongue -Reduces bridging and helps the cultivator follow the contour of hilly ground, avoiding ground gouge common with long tongue cultivators.

Adjustable shank - Trip spring pressure can be adjusted from 90 lbs. to 225 lbs. to meet varying ground conditions.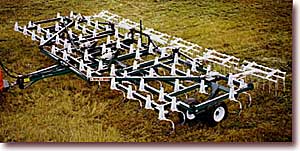 Master slave hydraulic systems - Help maintain a uniform working depth without cables and mechanical linkage.

Tandem walking beam - Achieves superior flotation and reduces ground compaction in field use.

Wing extension -Available from 2 to 14 shanks.
---
PRODUCT SPECIFICATIONS
3-Section and 5-Section Modes
WORKING WIDTH: 26'1O" to 44'4" (3-section) 45'6" to 58'4" (5-section)
CENTER: 12'
WINGS: 7', 9'6", 12' (3-section) 9'6", 12' (5-section inner wings);
7' (5-section outer wings)
WING EXTENSIONS: 2 to 14 shanks
FRAME: 4" x 4" square steel tubing
FRAME DEPTH: 114"
TONGUE: 4" x 6" (3-section); 4" x 8" (5-section)
TRANSPORT HEIGHT: 15'4"
TRANSPORT WIDTH: Adjustable to 17'3"
SHANK: 9/16" x 1-3/4" spring steel
SHANK SPACING: 7" or 9"
SHANK CLEARANCE: 24" frame to point