A Closer Look.


MULTI-FUNCTION HYDRAULIC VALVE
A multi-function hydraulic valve offers several advantages:
1. Allows only 600 lbs. of pressure for safe unfolding, while retaining total tractor pressure for wing lift
2. Permits full tractor pressure to raise machine out of the ground, while limiting pressure to 600 lbs. for in-ground depth control and cylinder longevity;
3. Locks oil in machine once depth is set to eliminate wing-to-center-frame creep
4. Sequences main lift with rolling tongue when optional rolling tongue is installed



INDEPENDENT LEVELING & SINGLE POINT DEPTH CONTROL
Each cylinder base is adjustable to optimize side-to-side leveling and ensure even shank and rod depth. Simple clock/counter-clock adjusting lever permits quick working depth control adjustment.
Agicultural Products::Culta-Weeder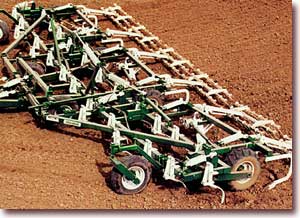 Dual-purpose Rod Weeder improves yield.
Rotary rod weeders were initially developed to control weeds in summerfallow. Their design is highly effective: square rods rotating in a reverse direction forcing weeds upward to the ground surface.
Ironically, it is not uncommon now to see a rod weeder operating in a completely weedless field. But for another purpose: to set the moisture line in summerfallow.
And that's important. Loose soil will lose moisture to the depth of tillage -- regardless of whether you plow or disc. Consequently, this soil type should not be allowed to extend to the surface, since moisture travels upward through compact soil by capillary action.
That's why knowledgeable farmers utilize reverse rotating rods to compact their soil. This process allows an insulating mulch of loose clods, soil and trash to blanket the surface and help stop evaporation. To set the moisture line, just immediately follow your initial tillage with a rod weeder.
Then, in each succeeding operation, avoid running the rod any shallower until moisture is held at a depth suitable for seeding. Your final rodding pass will make a firm seed bed in moist soil.
Clearly, the rod weeder is an indispensable tool for all soil affected by limited rainfall. Without this field advantage, you would not have sufficient moisture to grow crops successfully.
Is the rod weeder misnamed? Yes, or at least undernamed. It purposefully kills weeds. But it performs beyond initial duty by adding many bushels to your yield. Apply this knowledge with a Calkins Culta-Weeder and you'll achieve the lowest tillage cost per acre, while covering more acres per unit -- in all kinds of soil and trash conditions.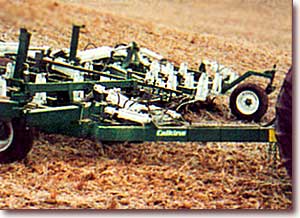 ROLLING TONGUE LEVELS UNEVEN GROUND
Farming uneven ground? Optional rolling tongue design permits Culta-Weeder to operate independent of the hitch and adapt to multitude of terrains and conditions. On the road, Culta-Weeder transports like all rigid tongue machinery for easy highway travel.
---
PRODUCT SPECIFICATIONS
MODEL: CW2O-033
LENGTH: 33 feet; CENTER: 12 feet; WINGS 10-1/2 feet;
SHANKS: 25

MODEL: CW2O-036
LENGTH: 36 feet; CENTER: 12 feet; WINGS: 12 feet; SHANKS: 27


FRAME: 4"x4" square steel tubing


TONGUE UNIT:
TONGUE: Rigid 4"x 8" steel tubing
ROLLING TONGUE FRONT: 4"x 6" steel tubing
ROLLING TONGUE REAR MEMBER: 4"x 8" steel tubing


WEEDING ROD:
1' square high carbon heat treated steel; GOOSENECK: high carbon heat treated steel; CLEARANCE: 26' from frame to rod


WEEDER UNIT:
Spring loaded 4"x4" steel tubing
Adjustable hydraulic pressure set value; Automatic reset rock trip on weeder units; Adjustable single point hydraulic depth control


BOOT DRIVECHAIN: Special hard roller link


TIRE SIZE: 12-1/2L x 15; High cleat on drive tires


DRIVE BOOT: One each section


WHEELS: 6-bolt hubs


HUBS, SPINDLES & BEARINGS: Heavy duty; hubs can be greased; spindles are replaceable and bolt-on


U-JOINT: 1 -1/4" 20 HP


DRIVELINES: 1-1/4" square


SHANK: 9/16" x 1-3/4" spring steel


SHANK CLEARANCE: 24" frame to point


WEIGHT: 266 lbs. per foot rolling tongue with harrow


TRANSPORT HEIGHT: 15'2"


TRANSPORT WIDTH: Adjustable to 14'8"