Agicultural Products::Chisel Plow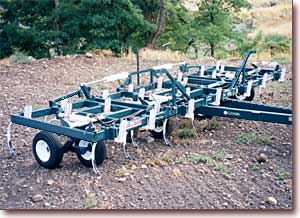 Stiff mount chisel shanks with tandem walking beam.
The stiff mount chisel shank provides for maximum ground to frame clearance. Calkins builds a solid shank mounto for a positive hold. Stiff shanks can be ordered in 32" or 26" lenghts with 1-1/4"x2" shank dimensions.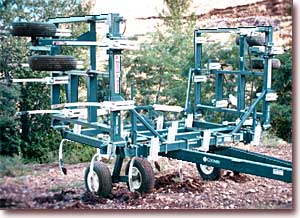 Tandem walking beam axles provide for better flotation and depth control in eneven ground contours. Also, tandem walking wheels support more weight and add stability in road transport position. Calkins uses tapered wheel bearings for high load capacities.

---
PRODUCT SPECIFICATIONS

Sizes: 8' - 35'


Shank spacing: 12"


Center section: 8' and 11'


Wings: 6' and 9'


Wing extensions: 2,4 and 6 shank


Frame tubing: 6"x6" tubing with 1/4" wall


Tongue: