History
Page 3 of 3
1960 - Sales representative hired to develop the soybean market in Minnesota and Iowa.
1962 - The green pea harvest procedure is again revolutionized with the advent of traveling green pea viners which picked up and thrashed the green peas in the field. This created the need for a new type of tractor-mounted windrower. The J. E. Love Company designed and developed equipment which met the new need.
1965 - Love tractor-mounted green pea windrowers are introduced to the Minnesota and Wisconsin markets for the first time.
1969 - Auger type green pea windrowers are introduced. These machines substantially reduce maintenance costs below that of the older draper conveyer type units.
1970 - All-metal G70 model pick-up reel introduced. Extended life and greater strength are the result of the elimination of wood components.
1971 - Tree Seedling Harvester introduced.
1974 - Opens a new manufacturing facility at New Albany, MS.
N-Tine reels first marketed.
1975 - Introduced Till-All line of tillage tools.
Auger Header prototype TR510 introduced.
1978 - Rod Weeders added to product line.
1979 - Plot Seeder added to product line.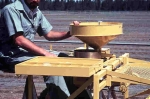 1985 - Vacuum Sower added to product line.
1986 - Rod Weeders, Till-All line of products dropped from line.
Closed Windom facility.